RACHEL BUTLER, SCHOOL DIRECTOR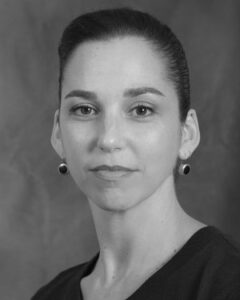 Ms. Butler has most recently served as Ballet Mistress for New Haven Ballet. Ms. Butler trained with Pacific Northwest Ballet, Pennsylvania Ballet, and the Atlantic Contemporary Ballet Academy. As a professional dancer, Ms. Butler danced Soloist and Principal roles with Pacific Northwest Ballet and the Pennsylvania Ballet. She has been sought after as a guest artist throughout the United States. Ms. Butler has trained and worked with Bruce Wells, Violette Verdy, Richard Tanner, Robert Weiss, Kent Stowell, Francia Russell, Patricia Neary, Bart Cook, Lynn Taylor-Corbett, Suzanne Farrell, Bojan Spasoff, and Stephanie Wolf, among others.
As a Ballet Mistress, Ms. Butler has set ballet's for New Haven Ballet and served as Assistant Ballet Mistress of children's roles for Kent Stowell's and Maurice Sendak's world renowned production of The Nutcracker. Ms. Butler's dancing credits include George Balanchine's Four Temperaments, Ballet Imperial, Divertimento #15, A Midsummer Night's Dream, Symphony in C, Who Cares, Stars and Stripes, and Western Symphony, Kent Stowell's The Firebird, The Nutcracker, Swan Lake, Jerome Robin's Fanfare and ballets choreographed by William Forsythe, Peter Martins, and Paul Taylor among others. Ms. Butler's teaching credits include Pacific Northwest Ballet, The Rock School for Dance Education, Mid-Atlantic Ballet, and Albany Dance Institute. Ms. Butler has also traveled the world dancing and teaching in China, Turkey, Australia, London, and Scotland and has performed for The Kennedy Center and New York's City Center.
PHILLIP OTTO, ARTISTIC DIRECTOR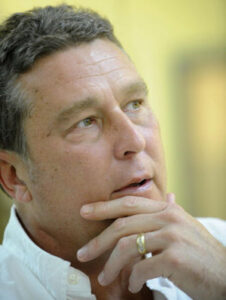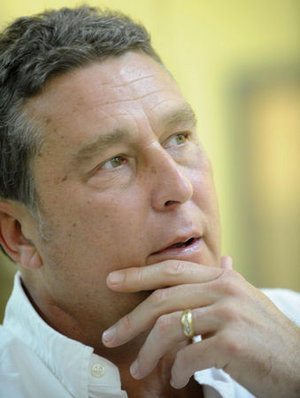 Mr. Otto has most recently served as New Haven Ballet's Artistic Director. Mr. Otto has served as the Artistic Director for the Huntsville Ballet since 2008. Born in New York, Mr. Otto trained at the School of American Ballet, American Ballet Theatre School, and the Joffrey School, among others. As a child, Mr. Otto was a member of the Metropolitan Opera's Children's Chorus and danced with New York City Ballet, American Ballet Theatre, London's Royal Ballet, the Stuttgart Ballet, and the Bolshoi Ballet. As an adult, Mr. Otto danced Principal and Soloist roles with Milwaukee Ballet, Pennsylvania Ballet, and Pacific Northwest Ballet.
After retiring as a featured soloist from Pacific Northwest Ballet in 1996, Mr. Otto was the first company member ever to be asked to join the faculty of Pacific Northwest Ballet School. He went on to direct Pacific Northwest Ballet's student company as well as the company's outreach and educational programs. For this work, he was nominated for the State of Washington's Golden Apple Award for Excellence in Education. Mr. Otto has worked and trained with such distinguished artists as George Balanchine, Peter Martins, Jerome Robbins, Kent Stowell, Francia Russell, Bojan Spasoff, Robert Weiss, Lynn Taylor-Corbett, Violette Verdy, Richard Thomas, Alexandra Danilova, Lar Lubavitch, Andre Eglevsky, and Ted Kivitt, among others. Among Mr. Otto's dancing credits are Principal roles in George Balanchine's Who Cares, The Four Temperaments, Western Symphony, Concerto Borocco, La Valse, Symphony in C, The Nutcracker, Prodigal Son, A Midsummer Night's Dream, Cranko's Romeo and Juliet, Limon's Moor's Pavane, Forsythe's Love Songs, Lynn Taylor-Corbett's Brahms Sonatas, Code Of Silence, The Quilt, Tunes, Great Galloping Gottschalk, and Final Draft, among others. Additionally, Mr. Otto serves as permanent guest faculty for the Rock School for Dance Education in Philadelphia and has taught master classes for Vassar College, Yale University, the Kennedy Center, and the Edinburgh Festival, among other schools and companies throughout the United States and Scotland.
DEBORAH BAILEY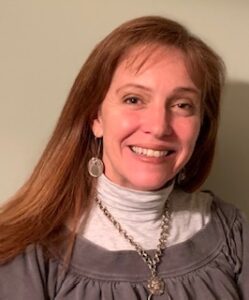 Mrs. Bailey, a native of Maitland, Florida studied at The School of Performing Arts under Patty Watson Walsh, Ellie Potts Barrett, Ari Bloustien, George Kolher, Phyllis Watson, and Russell Sultzbach. She also studied under Barbara Wiggins and Kip Watson of Southern Ballet Theatre, now the Orlando Ballet.
Mrs. Bailey started dancing for Walt Disney World at the age of ten in their Christmas Spectacular and became a cast member at the age fifteen. She danced for the opening of EPCOT Center, was a Can-Can dancer for the French Pavilion, and worked as a swing performer for many shows. She attended Brenau Women's College earning a minor in Dance Theatre. While at Brenau, Mrs. Bailey danced with the Gainesville Ballet Company and the Atlanta Ballet. Choreography awards include Honorable Mention, Five Points Choreography Competition of Atlanta; Best of Show, Florida Thespian State Competition; Best Choreography, Performing Dance Teachers Association; Best Choreography Dance Educators of America. Since moving to Alabama, she has taught with area studios including The Dance Factory in Athens, the Performing Dance Arts in Huntsville, and Dancers, Inc, in Decatur. Deborah also served as interim Artistic Director for Huntsville Ballet Company in 2007- 2008. She currently serves on the faculty at Huntsville Ballet School.
MELISSA B. BARNETT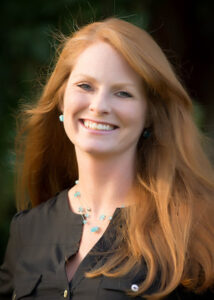 Mrs. Barnett began her dance training at age four in her hometown of Douglasville, Ga. Her training includes ballet, pointe, jazz, and tap from some of the best studios and instructors in the Atlanta area. She is graduate of Birmingham-Southern College and holds a Bachelor of Art in Dance Pedagogy with a minor in Business Administration. While at BSC, she studied Vaganova ballet technique with Mira Popovich, Ruth Henry, George Lysensko, and John Summer. She has performed roles in Les Sylphide, Con Amoré, and many original works by faculty, guest artists, and dance students at BSC. While at BSC, she served as the Student Coordinator for the Spring Dance Performance which featured solely original works choreographed by dance majors. In her senior year, she was awarded the Nina Kirsanova Award for Academic and Creative Excellence in Dance. In addition to classes and performing, she began her teaching career for a variety of studios in Birmingham.
After college, she moved back to her hometown to serve as the Ballet Director for two metro Atlanta studios. Mrs. Barnett moved to Huntsville  with her husband in 2000 and has since taught ballet for local studios, served as the Associate Artistic Director for Pointe Station, Inc., choreographed for Ovation Arts, served as the Stage Manager for the Choreography Competition of the Panoply Arts Festival, and has been nominated for a Wings Award for her choreography. She opened Huntsville Dance Academy in 2003 and was the owner/director for six years. After closing the studio in 2009 to spend more time with her husband and sons, she joined the faculty at Huntsville Ballet School and The Dance Company, Inc. In addition to teaching ballet with HBS, she is a member of Huntsville Ballet's Outreach team, teaching Arts Integration in elementary schools in the Huntsville City School System. Mrs. Barnett loves sharing her passion with her students, challenging them to work to their highest potential, and watching them grow into amazing young dancers. When she is not in the studio, she is a wife, mother, taxi driver, and cheerleader for her two sons who are competitive swimmers with Huntsville Swim Association.
VICKI BUTLER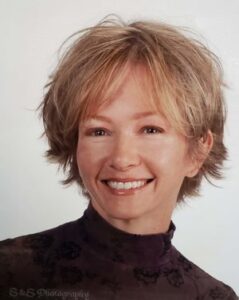 Ms. Butler began her ballet training with Imogene Wheeler in the Cecchetti method. She received a scholarship to Harkness House in New York where she studied with David Howard and Maria Veigh. She toured Italy as soloist with the Alabama Ballet and was Director of Dance for the American Youth Asso. in Germany. She has been teaching in Huntsville since 1975. With Huntsville Ballet Company, Vicki has danced the principal role in The Nutcracker, La Sylphide, Coppelia, Swan Lake and Sleeping Beauty. She won the classical division of the Panoply choreography competition (1988), modern division (1991), and contemporary division (1996). She has also choreographed several Fantasy playhouse productions. Her professional enhancement studies include: American Dance Festival at Duke University: Somatics, Stepping into History, and several dance professional workshops; Doris Humphrey Intensives in Oak Park, Illinois where she learned and performed Water Study; Skinner Release at Florida Dance Festival in Miami; World Dance Alliance in Philadelphia; Ballet Magnificat - teachers training; Glenwood Springs Dance Festival in Colorado, a three week intensive of ballet, modern and yoga under the direction of Doug Varone; AFFA Mat Science Workshop at the Huntsville Wellness Center; and The Little People's Creative Dance Workshop in Greenville, North Carolina. From 2006-2008, Vicki was the Interim School Director of Community Ballet School.
CATHY CURRY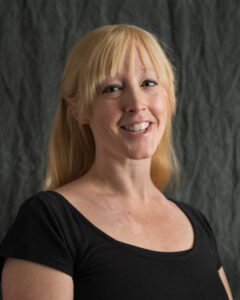 Ms. Curry began her dance training in Huntsville and became a member of Huntsville Ballet Company at age 12, where she performed many principal roles. After being awarded a full scholarship, Cathy received a Bachelor of Fine Arts in Dance from Florida State University where she had the opportunity to study and perform with renowned faculty such as Suzanne Farrell, Buglisi/Foreman, Doug Varone, and Jowole Zollar, the director of Urban Bush Women. During this time, Cathy was also a member of the Dance Repertory Theatre, a performing company dedicated to community outreach. Since college, Cathy has continued her dance education, including participating in NYU's Summer Dance Program and summers at the American Dance Festival's Professionals Workshop. She has recently received her Pilates certification from Balanced Body University. Cathy is also a certified K-12 teacher and was Director of Dance at the Academy for Academics and Arts, the arts magnet school in Huntsville.
PILAR DELANY
Mrs Delany started dancing with Academia de Bailes Zaida Varas in Puerto Rico at the age of 5. She received training in  ballet, Spanish dances (Jotas, Paso Doble, Zapateado, flamenco) and participated in Zarzuelas and Folkloric Dance festivals, and television productions.  She also assisted and taught at the beginning levels ballet and Spanish dance until her first year in college. During her undergraduate studies she entered the newly created company Ballet Concierto de Puerto Rico. There she studied under Lolita San Miguel, Jose Pares, Carlota Carrera and other masters and performed in productions of Swan Lake, Nutcracker, Coppelia, Giselle and their Coreographers' Workshop Presentations.  She left the company to pursue graduate studies in I/O Psychology and continued taking classes during that time and afterwards wherever her husband's military career took their growing family.
She and her children have been part of Community Ballet since moving to the Huntsville area in 2004 participating in The Nutcracker and other productions.
GINA GUERRERA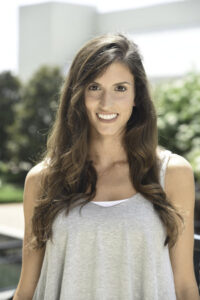 Originally from Connecticut, Gina has studied dance for over twenty years. While at the University of Connecticut, she was selected as a member of the Uconn Dance Company, where she choreographed and danced in a number of pieces in varying dance styles. Gina has participated in choreography workshops as well as dance conventions in New York City and New Jersey. After graduation, Gina taught and assisted at The Dance Workshop in Monroe, Connecticut. Gina has choreographed a piece for two seasons of the Huntsville Ballet Company's "Unplugged" performances. She counts it a privilege to be a part of the Huntsville Ballet organization.
CATHERINE HAMPTON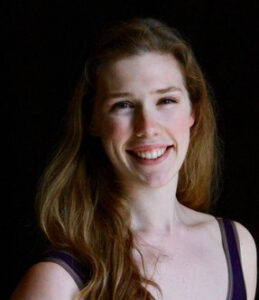 An alumnus of Huntsville Ballet School and former company dancer with Huntsville Ballet Company, Catherine is excited to be able to teach alongside the people who have been so influential in her dance career. She recently graduated with a B.F.A. in Dance from Belhaven University where she had the privilege of training under teachers such as Ravenna Tucker-Wagnon (Royal Ballet), Caleb Mitchell (Houston Ballet) and Laura Morton (Milwaukee Ballet, Houston Ballet School Faculty). While at Belhaven, she worked with her peers and students from a local arts magnet middle school teaching dance and choreographing, then, when home, taught at HBS and Huntsville Ballet's Summer Intensive. Over the years, Catherine has had the opportunity to work as a dancer under guest artists such as Dede Barfield (Pennsylvania Ballet), Catherine Batcheller (Stuttgart Ballet, Birmingham Royal Ballet), and Timothy Fox (NYCB, San Francisco Ballet) among others. Whether she's teaching, coaching, or choreographing, the impact of these and many more teachers carries through into Catherine's care and approach inside the classroom.
LINDA SOULÉ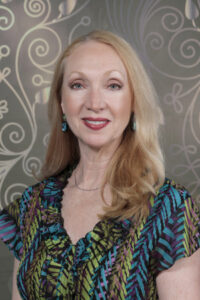 Linda Soulé is the founder and director of Covenant Dancers. From age 10, she trained at Huntsville's Community Ballet School under Loyd Tygett's direction. She appeared in Educational Television programs and starred in Fantasy Playhouse plays, where she received acting as well as dancing honors. Linda received full summer scholarships with the American Ballet Theatre School and the Joffrey Ballet in New York City. After high school, Linda continued her dance training at Birmingham Southern College under a full tuition scholarship. Linda has 40 years of teaching experience. She has taught for Community Ballet, Bobbie Hall, Dance Elite, Valley Fellowship's Christian Academy, Covenant of Peace Church, Covenant Christian Academy, Ben Wilcoxon Ice Plex, and the University of Alabama in Huntsville. She founded Covenant Dancers in 1996 as a Christian dance academy dedicated to developing students who honor the Lord through their dancing. Each year, Covenant Dancers presents a concert of liturgical, contemporary, and classical works. Linda's choreography has also been featured in local dance productions, church services, and Panoply of the Arts.
Sarah Satterfield
SCHOOL STAFF
Vulnavia Johnson, School Administrator
Emma Shepard, Administrative Assistant
Karen McKean, Administrative Assistant